The Secret of Endor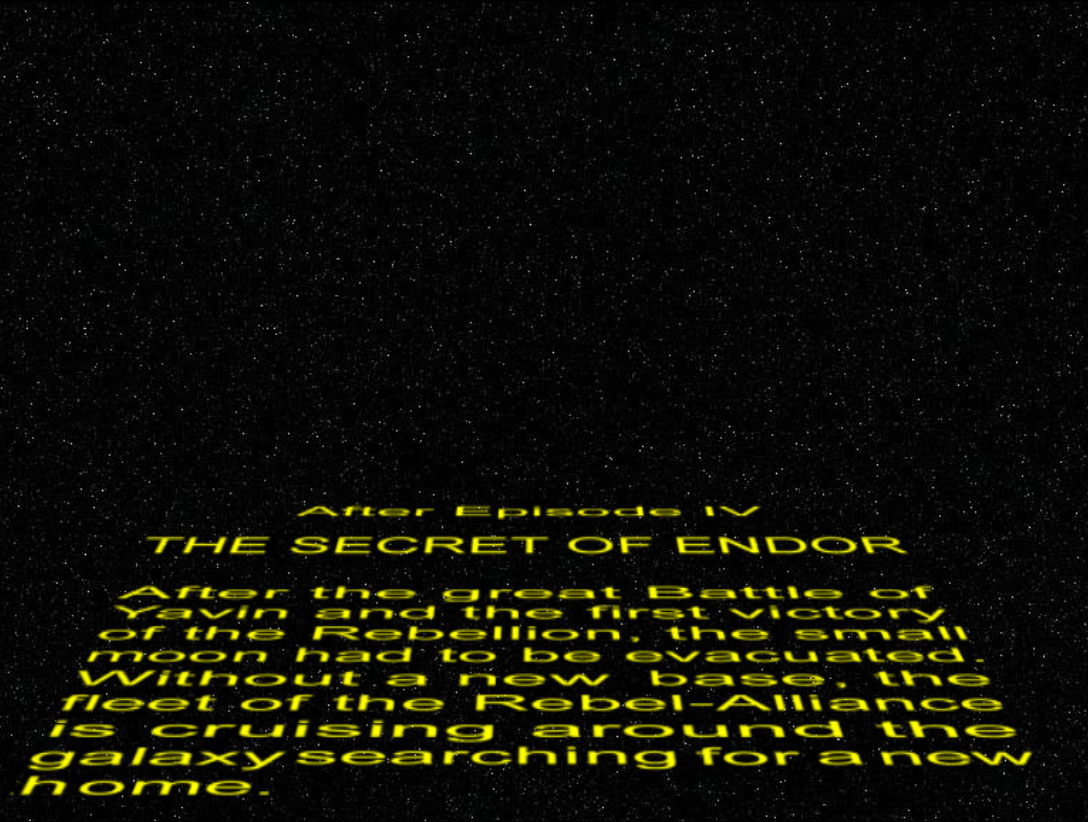 I want to present my little Fanfilm project here. I didn't make it to win any competitions or create the perfect Star Wars illusion. I made it to learn and have fun. Because I recently moved from Germany to Brazil, the project is dead.
1. Story
This film takes place right after the Battle of Yavin and is about two young rebels that fly to endor to seek for a new location for a rebel-base.

2. Script
There is no script and the story will not be too deep. I have everything pretty much in my head and details will be decided during shooting.
3. Technical
There will be some animated spacebattles. Some bluescreen scenes will be shot but the Endor Scenes will be in the real forest and the station on Endor will also be real
4. Duration of the movie
The length of the movie was planned to be about 20 - 30 minutes. 10 minutes are produced.
5. Quality
Just like mentioned before, the movie will not have a deep story. It is just made to evaluate my abilities in 3D animation. I would place the quality in between Tydirium - the true story and the two Jedi-Knights that bump their heads in the forest with broom-sticks.
6. Releasing
Edit: will not be reliased. Only a trailer is available.
7. Trailer
You may check out a little test-trailer I made.
(right-click, save as... wmv-File, 12,3 MB - 1 min 20 sec)
| | |
| --- | --- |
| | Opening-Scroll. Not yet perfect |
| | 3D animated rebelfleet. 10 seconds film mean about 4 hours of work on the computer. |
| | The maincharacter played by Peter S. |
| | Thats myself. Officer. |
| | ... and my boss, played by Raimund V. |
| | Imperial pilots - a bluescreen-shot. |
| | Hard Spacebattles. I finished about 60 % |
| | Right before the end of the battle. |